Did you ask for asylum 'cause you are gay? Are you waiting for the interview at the commision? You don't know how this will happen?
Some infos here in english and in urdu!
many thanks to: http://www.circolopink.it/pink-refugees-verona-2/
Do you have any questions? Please write us for questions or suggestions or to report something you think went against your rights. For you or someone else.
We don't know if we can help but we will try to do our best!
write us : viedifuga(a)inventati.org
English below!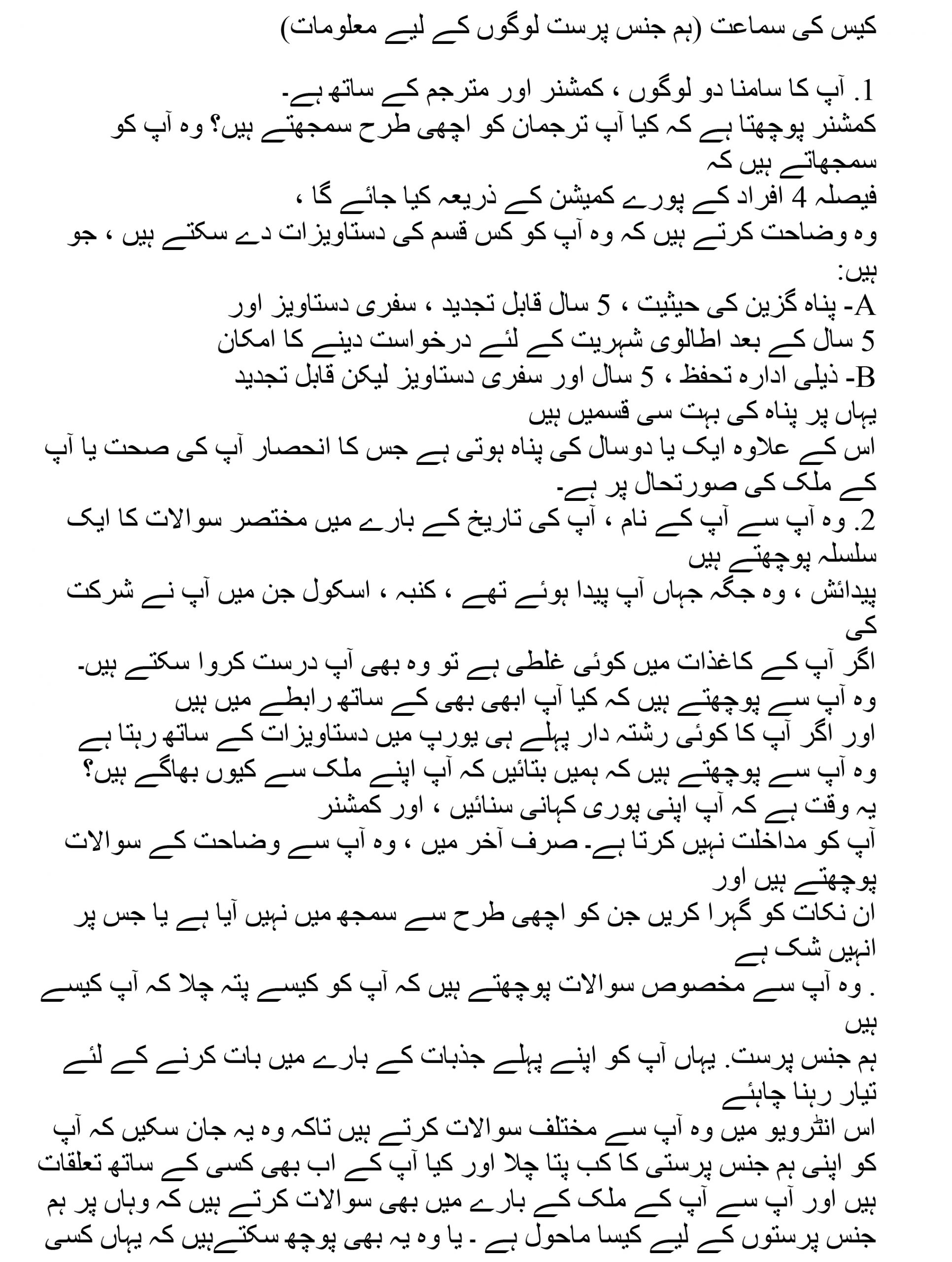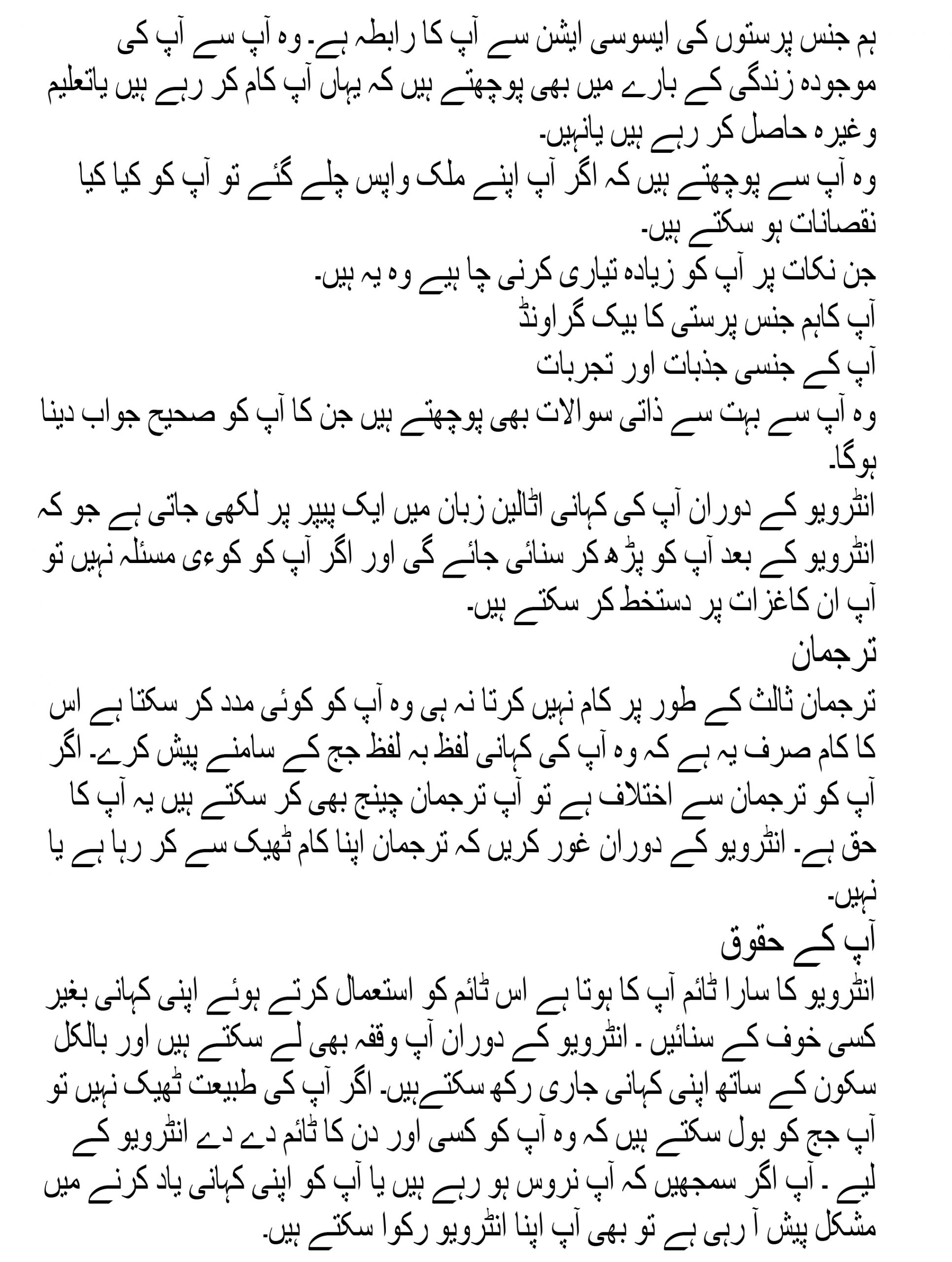 INTERVIEW AT COMMISSION
For gay / lesbian asylum seekers
You are in front of two people, the commissioner and the interpreter. The commissioner asks you if you understand the interpreter well. They explain to you that the decision will be taken by the whole 4-person commission, even if only one is questioning you.
They explain to you what types of documents they can give you, which are:
A-refugee status, 5-year renewable, UN passport and the possibility to apply for Italian citizenship after 5 years
B-subsidiary protection, 5 years and UN passport but renewable only after checks
C – Other types of documents of one or two years related to your health, the situation in your country or the exploitation of which you are a victim.
Usually LGBT people, if trusted, get the refugee status
They ask you a series of short questions about your name, your date of birth, the place where you were born, the family, the schools you attended in your country and the work you did. This is the time to correct registry errors. They ask you if you are still in contact with your family and if any of your relatives already live in Europe with documents
They ask you to tell them why you ran away from your country. This is the time to tell your whole story, and the inspector won't interrupt you. Only at the end, they ask you questions to clarify and deepen the points they have not understood correctly or have doubts about
They ask you specific questions about how you found out you were homosexual. Here you have to be ready to talk about your first emotions and feelings towards people of the same sex and about your relations as a gay / lesbian with family, religion and society. They also want to know how much you were aware of the danger and punishment that you risk being gay / lesbian in your country
They ask you some questions about your current life, asking if you have relationships, if you work, if you study and if you frequent LGBT associations
They ask you what problems you might have if you should go back to your country now
The points to be prepared with the most attention are 3, 4 and 6. These are the moments when the inspector investigates your personality and tries to understand if you are really gay / lesbian or if you are lying to get the documents. You have to be careful not to contradict yourself and to accept talking about very personal feelings, but without telling details of sexual experiences
THE "VERBALE"
All that is said during the audition, the questions, the answers and your story, are transcribed in Italian on a document that in the end is reread in your language, and that you will sign for acceptance ONLY IF YOU DO NOT FIND ERRORS AND LACK . Remember that the commission report is a very important document, because the commission's decision and also the court's decision, if the commission is negative, will be taken on the things written on it. You have the right to refuse to sign and ask for corrections until you are satisfied and convinced of the things that are reported. Only sign at that point
INTERPRETER
Remember that the interpreter is not a mediator and is not your helper: he only has the function of translating, and the dialogue must be solely between you and the commissioner. Ask for explanations about things you don't understand directly to the commissioner, and if you understand Italian, try to understand even if the interpreter and the commissioner comment or talk to each other for longer than what is needed to translate the things you said.
YOUR RIGHTS
The interview in committee is your moment. You have the right to use all the time you need, even if they try to hurry you. You have the right to request breaks. You have the right to request that the commission be suspended and that they give you a new appointment if you do not feel well, if you feel too nervous to remember everything you want to tell and if it seems to you that the translator is not doing his job correctly